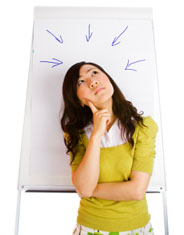 You –what career might you be good at?
Everyone wants to be excited to go to work. One way that you can ensure that is to find a job that complements your interests, skills, qualities, and personality. Maybe you haven't thought about that yet, but it's never too early or late to start!
What makes you excited?
What do you find interesting?
What is very easy for you?
Are those questions too difficult to answer? Then try these:
What subjects or tasks do you like at school or work?
What news stories draw your attention?
What kinds of things do you volunteer to help with?
What things do you avoid doing at work or school?
What kinds of things do people ask for your help on?
Use the links at the left to to search on specific skills, interests, and qualities that might help you focus on an animal related career. The information here has been collected directly from people IN THESE CAREERS via extensive survey data. If you are not sure where to start, try taking some personality tests to see what types of careers fit your personality.