What kinds of experience will help me get where I want to be?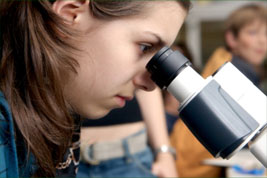 Research Intern.
To evaluate a career path, you need hands-on experiences doing typical work of professionals in that career. In doing this, you might find you enjoy a career you had not considered before, or that your dream job was very different from the real thing!
Why wait to find out if you enjoy the type of work in your careers of interest when there are so many opportunities to get involved now? To the left you will find links to:
Information about where to look for internships and relevant work experience.
Details to consider in looking for work experience and types of experiences that are available.
Information about how to make an impression and get the job.
Websites that advertise or post animal-related career experience or student internships.
Stories from students about their experiences.