Meet Erik!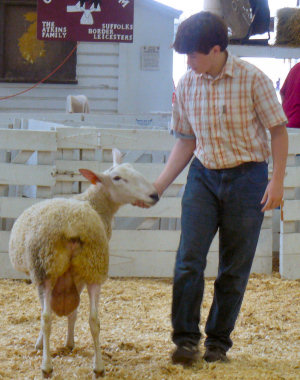 Erik leading a sheep
Erik is a senior in high school and has always had a passion for working with animals. Although his family had no experiencing or background in raising farm animals, this did not stop Erik from starting his own sheep farm at the age of 13! Since that time, his flock has grown to 8 sheep (many of which are pregnant) he also has 2 llamas, 5 turkeys, 5 ducks, 25 chickens, 50 rabbits, 1 guinea pig, 3 dogs, and 3 cats! He hopes that the experiences he has had in establishing and managing his own farm will help him to one day become a large animal veterinarian. We asked him to tell us more about this experience.
How did you become interested in starting a farm at such a young age?
      
"I have been showing rabbits since I was 8… One Summer I helped my friend show her sheep and I wound up looking more deeply into starting a flock of my own. Eventually, when I had saved enough money, I bought the first sheep for my flock!"
What are some of the things you do on a day-to-day basis?
"My responsibilities in managing my farm include everything from feeding and watering the animals on a daily basis to giving shots and maintaining the flock's health to property maintenance. I also fit and show the animals and oversee the lambing on the farm."
"I would have to say that helping my first ewe give birth to her first lamb was my favorite part of my livestock experience so far. It was a true miracle, and gave me so much appreciation for the animals themselves."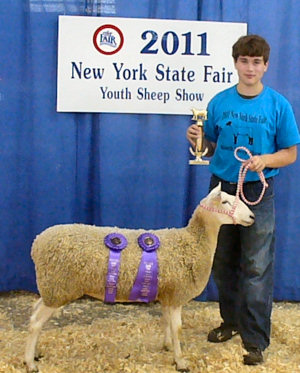 Erik at the 2011 New York State Fair
Describe a really memorable or exciting day you had while on the job?
 "I transported a llama that I had just sold as a guard [animal] to a sheep farm down the road. They had been losing a sheep or two every month to coyotes. As soon as we turned him out with the sheep, he chased the herding dog out of the pasture to protect "his" new flock, and they haven't lost a sheep to predators since. It just amazed me how well animals can work together to thrive."
What have you learned while managing your own farm? Have you learned anything about yourself?
"I have learned that I am more driven and more responsible than I had ever thought. I learned that I am able to get up at 4am to accomplish the things I need done around the farm before leaving for my other job. I learned that I can work hard and save money to buy a new flock sire, and I can set goals for myself. I also learned that I can be accountable and take responsibility to ensure my flock's well-being."
Do you have advice for other students interested in finding similar experiences?
"Set your mind to it, and you will achieve what you want. It wasn't easy for me to get where I am. My parents were never anything close to farmers, and it has been a long journey with lots of personal growth and learning, and it was so worth it."
Has this experience helped you move closer to your dream job? How?
"It has! Because of my many livestock-related experiences, I was accepted into the New Visions: Life Sciences Program at Cornell for my senior year in high school. I think that this program will most certainly help me to explore in much more depth the fields of Veterinary Medicine and Animal Sciences. I don't think it would be possible for me to learn in a classroom what I have learned collectively over the years of managing my own farm. The experiences I have I will carry with me and will make me a better vet in times to come!"