Meet Gaby!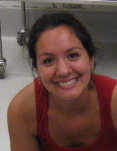 Gaby, a student studying Natural Resources at Cornell University, discovered a lot about herself from the various internship positions she has had while attending school. We interviewed Gaby and asked her to tell us more about those experiences and what she learned from them.
Pre-college experiences…
After many years of looking longingly at the New England Aquarium, Gaby obtained a job working at the Lobster Rearing and Research Facility the summer before entering college. This was her first experience with the scientific method and helped Gaby to realize just how much hard work goes into animal research.
Opportunities at the Cornell University College of Veterinary Medicine…
Upon arriving at Cornell, Gaby's original plan was to go to veterinary school. She was involved with the Pre-Veterinary Society and then began volunteering for enrichment time with dogs kept for research at the Cornell University College of Veterinary Medicine. There she met a student working on a research project that needed assistance. Gaby gained experience in looking up literature references in databases and the nitty-gritty of laboratory preparation.  That experience helped her to realize that she "didn't like labs and didn't want to be indoors".
Learning about what you don't like to do is just as valuable as learning what you do like to do!
Summer working with horses…

Gaby decided her next internship should involve working outdoors.  After many emails, she finally got set up working at the Cornell Equine Research Park Annex and Quarantine Facility and gained large animal handling experience for an entire summer.  In addition to learning that she wanted a career that involved working outdoors, it also solidified for Gaby that veterinary medicine was no longer a career ambition of hers.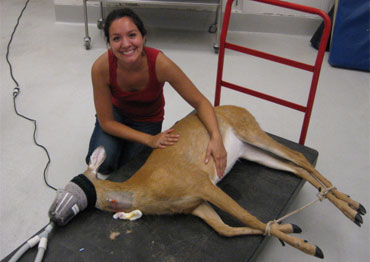 Gaby with one of her deer prepped for sterilization surgery.
Research Revisited…
After asking her academic advisor if he knew of any new opportunities, Gaby joined a new lab and gained experience assisting with data collection on a deer population management study. Pictured here is Gaby with one of her deer prepped for sterilization surgery (being studied as a potential means for population control)!  Gaby took real ownership of this project and has discovered that she would be truly happy working in a field related to natural resources or environmental conservation.
Gaby's story identified 3 key themes to successful internship experiences…
Identify your needs and find positions that fill those needs.

Gaby tried working outdoors for the first time and discovered that she really enjoyed it, all because she knew she needed large animal experience.

Ask!  Ask!  Ask!  Ask people what positions might be available, and then ask again! 

Gaby used all of her connections to find out about internships.  Don't forget to include individuals working in unrelated fields because they might have friends or colleagues working in your area.

Explore opportunities for funding.

Gaby knew that having her own funding was very enticing to individuals looking for student help.
Gabby will continue exploring her career options during the summer as a research assistant working in the Hudson Valley on fish populations; yet another position she obtained simply by asking around!