Meet Joseph!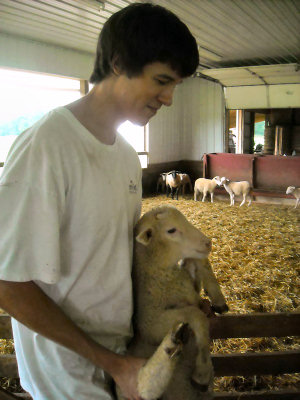 Joseph carrying a lamb.
Joseph is an animal science student at Cornell University and will be entering his senior year. He grew up on a sheep farm and often showed sheep at the county and state fairs through his local 4-H Club. Joseph has always aspired to be a veterinarian and when he heard about a unique program through his high school offering opportunities to shadow veterinarians at Cornell University he jumped at the chance! Here he tells us a little bit more about how he found out about the opportunity to become a veterinary clinic assistant at the Cornell University College of Veterinary Medicine and what he does on a day-to-day basis.
How did you hear about this work experience opportunity?

"I learned about the New Visions program through my high school when the teacher came into my classroom to do a presentation.  She discussed how students are allowed to shadow doctors at the Cornell Hospital for Animals in many different departments.  Since I knew I wanted to be a veterinarian, I realized this was the perfect opportunity to provide myself with quality experiences in fields I never before imagined."
Always keep your eyes and ears open for work experience opportunities. Your high school may put up posters or invite a special guest to talk about volunteering, internships or jobs in your area. Take advantage of these opportunities!
Describe a typical day for you! What are some of your responsibilities in this position?
"My everyday responsibilities include taking patient profiles from clients, restraining patients [mostly cats and dogs], discussing cases with vet students and clinicians, drawing up vaccines, attending rounds, and being fluent in the UVIS (University Veterinary Information System) program."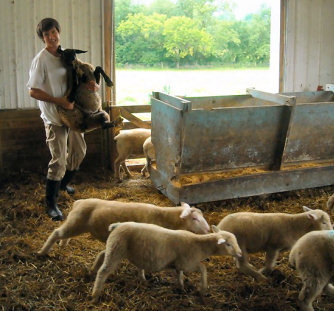 Joseph at work in the sheep barn.
What are some important things you have learned while working here?
"I have learned an amazing amount of information, from vaccination schedules to genetic predispositions of dog breeds.  I have learned how to properly restrain dogs and cats for physical examinations and blood draws, large amounts about animal behavior, and even more about client communication.  By having discussions with vet students I get an in-depth look at an ordinary day, the curriculum of classes, and how to survive the tough regimen [of vet school]."
If you're not lucky enough to find a job working at a school of veterinary medicine like Joseph, you can still learn all about what it takes to be a successful veterinary student.  All vet schools will have a website that offers loads of information for prospective students. Here is the link to Cornell's Veterinary College http://www.vet.cornell.edu/
What's next for you? What do you want to be when you "grow up"?
"I aspire to be a veterinarian.  As a student currently applying to veterinary school, this experience directly applies because I work alongside veterinarians and students in the process of completing veterinary school."
Has this experience helped you move closer to your dream job? How?
"Veterinary schools expect to see applicants spending hundreds, if not thousands of hours with licensed veterinarians.  Since this experience includes hands on experience with animals alongside veterinarians, it is a very valuable experience to have on my application."
If you are interested going to vet school getting experience with animals by volunteering or working for a veterinarian can be very beneficial. Not only will this help you to know if this is the right job for you, but it may also lead to an excellent letter of recommendation from a veterinarian for your vet school application!