Meet Olivia!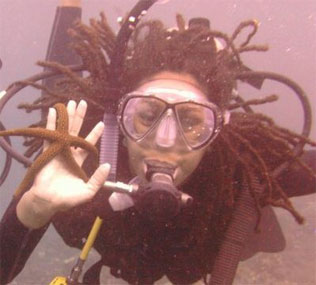 Just another day on the job for Olivia! Snorkeling in search
of unique marine life.
Olivia is a sophomore student at Cornell University in the Natural Resources program of the College of Agriculture and Life Sciences. Her area of interest is in Marine Biology.
Olivia applied for and was awarded a competitive internship funded by the National Science Foundation (NSF) called "The Diversity Project." For this internship Olivia traveled to Bali, Indonesia to participate in marine biodiversity research in partnership with UCLA (University of California, Los Angeles). Here she discusses her experiences with the program!
How did you hear about this internship?
      
"I mentioned to a professor that I wanted to go to Indonesia for research experience but the program I had found on a bulletin was too expensive. About a month later that same professor told me that she had heard of a program in Indonesia while attending a conference recently, and that I should check it out. I did, and applied right away."
What do you do on a typical day?
"I am taking 3 courses to familiarize myself with DNA processing techniques, how to sample marine biodiversity properly, and learn how to operate the latest computer software in the molecular biology field. … I [work] in a lab doing extractions and PCR on possible new species… I also get to spend time in the field collecting [specimens] by snorkeling around the reef looking for species of interest."
PCR is a laboratory technique used in molecular biology to help with the study of DNA, the building blocks of life. With this internship Olivia is certainly gaining laboratory experience she would never had in her university classes. These experiences provide a tremendous advantage for being successful with landing that dream job after graduation!
Have you had a particularly exciting or memorable day at work?
"My most exciting day began at 4am. I woke up and went straight into the intertidal [zone] to search for [and collect] the highly poisonous blue-ringed octopus. The blue-ring octopus is very small and cute, but one should not let that fool them. This tiny octopus contains the same neurotoxin as the fugu fish, which is the poisonous puffer fish eaten as a delicacy in Japan. …After helping [with the early morning collection] and taking a short nap, I continued my day at the 'lab'…[it was] a makeshift lab in the honeymoon villa of a resort on the beach. I spent the next part of my day taking photos of the specimens we collected before they were sampled and packaged for DNA sequencing at our formal lab. To finish off my day I went out with the other students for a sunset snorkel."
Internships are not just about getting work experience, as Olivia has shown here they also generate once in a life time experiences and memories!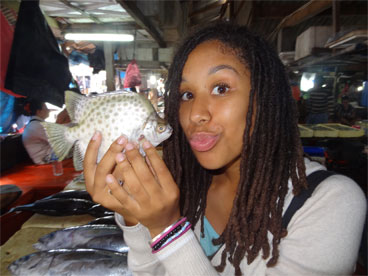 Olivia posing with one of the many species of fish found in the
Coral Triangle of Bali, Indonesia!
Do you have any words of advice for students seeking internships?
"When traveling to other countries it is very important to have an understanding of their culture's customs and beliefs. I wish I had gained a little more knowledge about traditional views here in Bali. …there is a large Muslim influence and certain clothes are inappropriate for women to wear at the school I am attending."
Has this experience helped you move closer to your dream job? What's next?
"Yes! I have gained invaluable experience with current techniques in the field, and here in Bali I have gotten the opportunity to work with many world-renowned scientists one-on-one. I have learned a great deal about biodiversity, and seen first hand the incredible amount of species that call the Coral Triangle their home. I have also learned how much I truly love the field of marine biology."
"I plan to study abroad in Australia, and to continue to look for opportunities that will take me across the globe."