Meet Charlene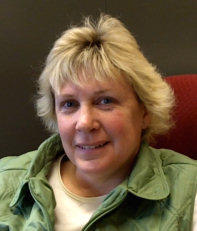 Charlene Ryan is a Research Support Specialist at Cornell University.  Charlene is an essential component to many of the research projects involving dairy cattle.  Many graduate students, faculty, and staff turn to Charlene for help.  We recently caught up with Charlene and asked her a few questions about what a "Day in the Life" is like for her:
Describe a typical day at work for you
"I don't really have a typical work day, but the day could start at 5 o'clock in the morning or 9 o'clock at night… many times if we are doing research it means getting there early to take blood or milk samples…For the most part I am working directly with animals but I also work on ordering of supplies and also with youth programs and help teach some labs offered with classes  at Cornell."
What are skills you use regularly?
Computer skills
Herd-health/animal care
What do you like most about your job?
"I like the variety!  I'm not the type of person to sit behind a desk all day.  I have some days where I'm out working with the animals but then might also spend some time in front of the computer."  I bet a lot of people want variety in their jobs, just like Charlene!"
Would you have pictured yourself in this career?
"Originally I had planned on being a herdsman or having my own farm.  I went to Cobleskill for 2 years for school, and then when I returned to the home farm, my dad told me he was selling it and that I had to find a new job.  So I started at the Cornell dairy research farm and was asked by the professors to start helping with research work.  Eventually while working at Cornell, I went through and finished my Bachelor's Degree, which Cornell basically paid for."  Opportunities for employers to support college degrees is not uncommon and something students could keep in mind."
Do you have any advice for students interested in careers with animals?
"The biggest thing is that if you're going to be out working on farms today is to know Spanish since much of the workforce is Spanish-speaking.  Your computer skills are also very important, as is a 4-year degree, or at least a 2-year degree."  Great advice, Charlene!"
From Charlene's perspective, it seems like as long as you are well-prepared and flexible, your possibilities are endless!