Meet Denny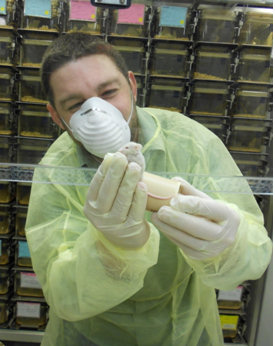 Even though Denny did not envision himself playing a critical role in cutting edge research when he was younger, his motivation and open mindedness about the possibilities of working with animals has led him to a fulfilling career! When we asked Denny about his career as a Breeding Coordinator at the Center for Animal Resources and Education at Cornell University, this is the advice he had to offer.
Describe a typical day at work for you.
"I work with research scientists to manage mouse colonies. In my job every day is different. On any given day, my job involves breeding or pairing mice, identifying the mice in each cage for better record keeping collecting samples for experiments, and administering health treatments like special diets for pregnant females or medication if needed. I am also on a weekend rotation where I have the opportunity to help my co-workers with observations and care of other animal species."
What are 3 skills you use regularly?
Organization
Time Management
Creativity in utilizing the resources available
What do you like most about your job?
"The Variety! There are always new projects and labs starting up! I'm constantly learning new things! At my past jobs I would get bored when the tasks became too monotonous I doubt I will learn everything that this position has to offer! It also helps that I work with a great group of people who are willing to share their knowledge!"
Would you have pictured yourself in this career? What did you want to be when you "grew up"?
"When I graduated college I never would have thought I'd be doing this job, but looking back it is not too far-fetched from my childhood dreams. When I was a kid, I wanted to be a farmer, or travel around the world filming and tracking wild animals like Marty Stouffer in 'Wild America"
What background and training do you have?
"In college, I studied Liberal Arts, Elementary Education, and Outdoor Recreation. After graduating, I was still unsure about what career I wanted for the rest of my life. I knew I didn't want to sit in an office everyday or work in retail. So I focused on what I enjoyed doing – working with animals! I started at Cornell University taking daily care of woodchucks and received the necessary training from my employer and peers along the way to the position that I have today. I have also found that online courses are a great resource to receive more training."
Do you have any advice for students interested in careers with animals??
"Work with as many animals as you can and gain hands-on experience! A great way to see if you truly want to work with animals is to volunteer. If you don't mind hard work, possibly getting dirty, and working the occasional holiday and weekend (because animals don't care about the human calendar!), then working with animals can be very rewarding!"