Meet Kiyomi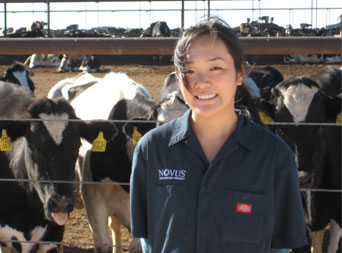 Kiyomi in the field.
Kiyomi Ito never imagined she would be working in the area she is today. She wanted to be a penguin caregiver at the zoo but now has a job with Novas International as project coordinator for their Cow Comfort Project. We asked Kiyomi to tell us more about her responsibilities in this position.
Describe a typical day at work for you
"On a typical day, I visit one or two dairy farms to do a cow comfort assessment.  I attach small devices called data loggers on the cows' legs to measure how much time they spend lying down, look for injuries on their legs, and assess how well the cows walk.  I also evaluate the housing environment for the cows and how feeding and milking routines are managed.  I use all this information to provide feedback to the dairy producer on how their farm is doing in terms of cow comfort.  Most of my days are spent on dairy farms working directly with the animals; other times, I am talking to the producers and their consultants about animal care and management so that they can optimize the health, well-being, and productivity of their dairy cows."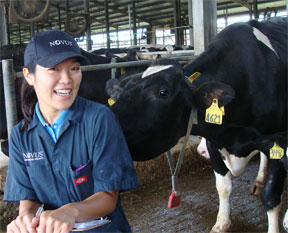 One of Kiyomi's jobs is to take measurements, such
as lying stall dimensions, within the cow pens. This
information is used to provide the producer with
feedback on how their farm is doing in terms of
cow comfort.
What are 3 skills you use regularly?
Careful observation / data analysis
Animal handling
Interpersonal communication
What do you like most about your job?
"That I get to work with cows every day; but also, I especially enjoy meeting many different producers across the United States, and helping them improve animal care and production on their farms while learning from them different ways to manage a dairy farm."
Kiyomi raises an excellent point! Even as a professional consultant there are always new things to learn; this keeps a job exciting and fulfilling.
Would you have pictured yourself in this career?
"I would NEVER have pictured myself in this career.  I always knew that I wanted to work with animals, but I did not even think about dairy cows because I grew up in a big city with no exposure to farm animals.  I wanted to be a penguin caregiver at the zoo, or maybe a veterinarian for dogs and cats."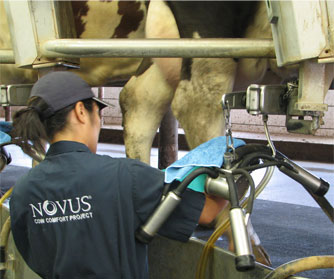 Cleaning a cows leg in the milk parlor before attaching
a small device to the leg which will measure how long cows
stand and lie down each day.
Even if you do not come from a farm background you can work with any species you want! Volunteering is a great way to get first-time experience working with different animals.
What background and training do you have?
"I have a Bachelor's degree in Agroecology and a Master's degree in Animal Science.  I also did a year-long internship with my current employer before I was hired for this position."
Do you have any advice for students interested in careers with animals?
"Get practical experience!  Explore and experiment – never know until you try it."
 …hmm this seems to be a reoccurring theme!