Meet Justine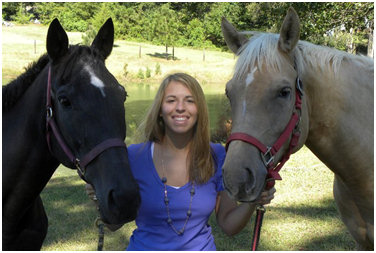 Justine is a Middle School Teacher who teaches "Exploring Biotechnology" and "Exploring Careers" at Benson Middle School.
Describe a typical day at work for you.
"A typical work day for me involves setting up laboratory activities and creating lesson plans for students with all different types of learning styles to make sure each student has the opportunity to do their best, My class helps students to discover how their hobbies, interests, and skills can link with future careers and to expose the students to different topics in agriculture.  For example, students learn about cloning and transgenic animals and debate the ethics of these scientific advancements.  As a fun activity, I ask my students to invent their own genetically modified animal and present to the class how their modifications will effect humans and agriculture.  It is amazing to see the students' creativity during this assignment!"
What are 3 skills you use regularly?
Listening
Interpersonal Communication
Problem Solving
What do you like most about your job?
"I enjoy sharing my combined passion for teaching and animals with my students.  I love waking up in the morning and knowing that I can make a difference in someone's life —no matter how small that difference might be. Introducing students to new topics relating to animals (most of whom never had any prior knowledge of animals) is a fun and rewarding experience."
Would you have pictured yourself in this career? What did you want to be when you "grew up"?
"Growing up, my bedroom was covered in stuffed animals.  I would create an imaginary veterinary clinic and "treat" each animal.  When I enrolled in college, I chose to study Animal Science.  I thought I would one day become a veterinarian, but I found out from my class experiences freshman year of college that I did not enjoy lab activities that dealt with dissection!  Determined to continue my study within the animal field, I took other classes around the University and discovered Agricultural Education.  I realized I could share my passion by teaching others how to properly care for their animals."
What background and training do you have?
"I have a Bachelor's degree in Animal Science and a Master's in Agricultural Education.  My Master's Degree program allowed me use my Animal Science background and apply to the classroom. With the help of some wonderful professors, I learned how to manage a classroom of students and teach various topics with agricultural science (plants, animals, biotechnology)."
Do you have any advice for students interested in careers with animals?
"If you have an interest or a passion dealing with animals, seek out people who work with animals on a daily basis.  You will be amazed when you hear their stories and experiences about how they got to their current job.  Networking is very valuable to your future in the animal industry – you never know who else you might meet and what path it may take you on!"