Meet Gladys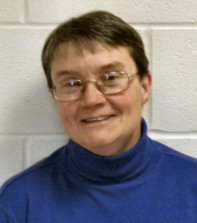 Gladys Birdsall, a Research Support Specialist, is responsible for supervising all of the research activities that go on at the Cornell Teaching and Research Dairy farm in Hartford, NY. We recently caught up with Gladys and asked her a few questions about what a "Day in the Life" is like for her:
Describe a typical day at work for you
"I mostly work indirectly with the cows, on a daily basis.  I am responsible for logging all daily events for the cows into our herd database…My job varies with the number of research projects going on… I may go out to the pens or even in the milking parlor to look at cows, as candidates for an upcoming study…I try and troubleshoot the needs a study might have, and how to accommodate them…I might assist some of the research projects with taking blood samples, or weighing the cows and/or doing body condition scoring of the cows."  Wow!  It sounds like no two days are alike for Gladys!
What are 3 skills you use regularly?
Communication
Meticulous record keeping
The ability to prioritize
What do you like most about your job?
"I work independently…also, job location:  I do enjoy working in an office, but in a minute can be out and around the cows; I might catch seeing a calf being born…I work with some really great people here…I also enjoy talking with the international graduate students about where they are from."
Would you have pictured yourself in this career?
"I did not picture this particular job.  I was always interested in biology, zoology related fields." 
What background and training do you have?
"I learned a great deal from my experiences and upbringing on a dairy farm…
I have a Bachelors degree in general agriculture.  I took courses, not just in animal science, but agronomy, ag economics, soil sciences, and more…
a lot of what I have done has been taught through on the job training."
Do you have any advice for students interested in careers with animals?
"I have found that it helps to be diversified in your background.  Don't be afraid to try different things, as they could open up an opportunity you never expected."
Sounds like great advice, Gladys!