Meet Laura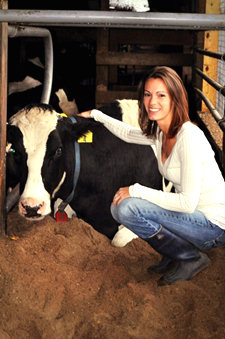 Laura is the Laboratory Coordinator for the Department of Animal and Food Sciences at the University of Delaware. She loves animals and teaching students and is able to combine both in her career! Here is what she had to say about her job and what a typical workday is like for her.
Describe a typical day at work for you.
"As laboratory coordinator, my work schedule varies daily depending on the courses that being taught each semester. I usually start by reading my email, and then prepping for that day's labs, running the labs and then cleaning up. Some days I start early because of morning lab classes and some days I stay late to attend Animal Science Club meetings, for which I am club co-advisor. It makes my job really fun since every day is a little bit different!
The labs that I teach range from the basic introduction on how to milk a cow through the procedures of calving and lambing, and even embryo transfer on our dairy cows. I get to work with different breeds of chicken including our own mixed strain called the Blue Hen."
What are 3 skills you use regularly?
Communication
Animal Care and Handling
Organization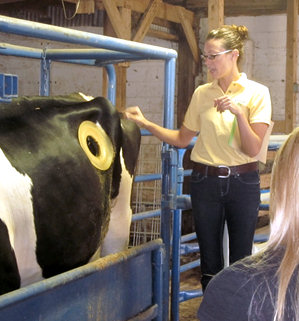 What do you like most about your job?
"My job is the perfect combination of working with animals and people. With this job, I am able to interact with animals and students every single day! During my Masters program, I discovered that teaching students about working with animals was something that I really enjoyed. I love to give my students hands on lessons and activities where they get to work with animals."
Would you have pictured yourself in this career?
"As a freshman in college, and even as a first year Masters student I didn't see myself on this career path – most likely because I didn't know that it existed! Like a lot of animal lovers, I was on a pre-vet track throughout my undergraduate career. However, I realized that my love for animals would make it too hard for me to have to put an animal down as a veterinarian. So, I altered my path to work in the animal physical rehabilitation field, and decided to go for a Masters degree in Animal Science, while I learned more about this career path. During my Masters, I discovered that I could combine my love of animals with teaching students and further their love and possibilities for working in the animal field."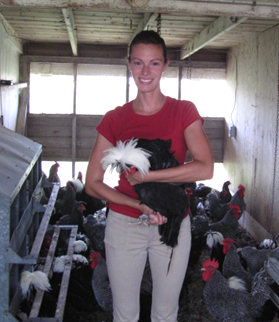 What background and training do you have?
"I have a Bachelors degree in Biology from Juniata College in Pennsylvania and a Masters in Animal Science from the University of Delaware. Growing up, I rode horses and worked at a horse farm, but my animal experience and training came from my 3 year Masters program where I researched how different types of trace minerals are utilized when they are fed to Holstein steers. During this time I had the opportunity to teach some laboratory classes and get to know what it is like to teach at the college level. I learned that the students are phenomenal! They are the reason that I applied for the position of Laboratory Coordinator. When I teach labs that are hands on, I see the students' passion and excitement for what they are learning – which makes me absolutely love my job!"
Do you have any advice for students interested in careers with animals?
"Keep your eyes open as wide as possible! Think about this as you go through your classes – what are you most excited to take, what do you learn most easily? There are SO MANY different careers out there that work with animals. I hear a lot of students say, "I didn't get into vet school, what now?" or "If I don't want to go to vet school at the end of 4 years, what else can I do?" You can do so much! Graduate school is not a fall back plan, it can be the next step in finding what you love to do. It was for me! Talk to your teachers, and talk to their contacts. You never know what you will enjoy in a job until you start trying things!"